From legendary Hank Williams, Johnny Cash, Willie Nelson... to Zak Brown Band, Kenny Chesney...
Songs List (alphabetical order)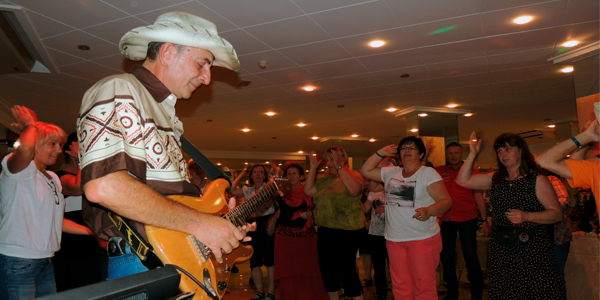 Achy Breaky Heart - Billy Ray Cyrus
All My Ex's Live In Texas - George Strait
Always On My Mind - W. Nelson
Are You Sure Hank Done It This Way - W. Jennings
Arizona Medley – Truck Stop
As She's Walking Away - Zac Brown Band/A. Jackson
Awful, Beautiful Life - Darryl Worley
Beachin' - Jake Owen
Beautiful Body (If I Said) - The Bellamy Brothers
Beer For My Horses - Toby Keith & Willie Nelson
Behind Closed Doors - Charlie Rich
Best friend (You're my) - Don Williams
Blackberry Blossom - Traditional - Instrumental
Blue Grass - Traditional - Instrumental
Check Yes Or No - George Strait
Chicks Dig It - Chris Cagle
Cindy - Johnny Cash
City of New Orleans - Willie Nelson
Cotton Eye Joe - Instrumental
Cotton Fields - C.C.R.
Country Medley No. 3 - Traditional 1. Oh Lonesome Me 2. Blue Moon of Kentucky 3. Rolling In My Sweet Babies' Arms
Country Boy (I'm Just A) - Don Williams
Country Boy - Alan Jackson
Country Folks Medley - Traditional 1. Banks Of The Ohio 2. Blowin' In The Wind 3. Hang Down Your Head Tom Dooley
Country Roads - John Denver
Coward Of The County - Kenny Rogers
Criple Creek - Traditional Instrumental
Desperately - George Strait
Duel Banjo - Blue Grass - Instrumental
East Bound and Down - Jerry Reed
Firecracker - Josh Turner
For The Good Times - Ray Price
Forever In Blue Jeans - Neil Diamond
Forever and Ever, Amen - Randy Travis Fun Ranch Boogie - Albert Lee - Instrumental Galway Girl - Gerard Butler by Steve Earle Gambler (The) - Kenny Rogers Garden Party - Ricky Nelson Gentle On My Mind - Glen Campbell Get Along - Kenny Chesney Get Rhythm - Martin Delray & Johnny Cash Ghost Riders In The Sky - Johnny Cash Good Hearted Woman - Waylon Jennings Good Ole Boys Like Me - Don Williams Good Time - Alan Jackson Greasy Coat - Apalachee Traditional Music Green Green Grass Of Home - Country Vers. Gypsy Woman (I Recall A) – Don Williams Handy Man - James Taylor He'll Have To Go - Jim Reeves Hello Mary Lou – Ricky Nelson Help Me Make It Through The Night - K. Kristofferson The Highwayman - Cash/Kristofferson/Nelson/Jennings Hillbilly Rock - The Woolpackers Hold On You - Jeff Bridges - Crazy Heart Soundtrack Homegrown - Zac Brown Band Honky Tonk Heart - Highway 101 How 'Bout You - Eric Church Just Want To Dance With You - George Strait I Love This Bar - Toby Keith I Saw The Light - Hank Williams I Think I'll Just Stay Here and Drink - Merle Haggard Island In The Stream - K. Rogers / Be Gees If You've Got The Money I've Got The Time - W. Nelson I'm Gonna Miss Her - Brad Paisley It must be love - Alan Jackson It Never Rains In Southern California - A. Hammond It's A Great Day To Be Alive - Travis Tritt It's Alright To Be A Redneck - Alan Jackson It's Five O'clock Somewhere - A. Jackson & Jimmy Buffet Jackson - Johnny Cash & June Carter Jambalaya On The Bayou - Hank Williams Johnny Cash Medley 1. San Quentin 2. A Boy Named Sue 3. I Walk The Line 4. Folsom Prison Blues Jolene - Dolly Parton King Of The Road - Roger Miller Knee Deep - Zac Brown Band & Jimmy Buffett Knockin' On Heaven's Door - Bob Dylan Ladies Love Country Boys - Trace Adkins Lay Down Sally - Country Version Let Your Love Flow - The Bellamy Brothers Little Bitty - Alan Jackson Load-Out (The) & Stay - Jackson Browne Lonesome On'ry And Mean - Tritt Travis Long Black Train - Josh Turner Lot Of Leavin' Left To Do - Dierks Bentley Lucille - Kenny Rogers Louisiana Saturday Night - Don Williams Love Me Tonight (Turn Out The Light And) - D. Williams Love Needs A Holiday - Reba McEntire Love The One You're With - Luther Vandross / CSN&Y Love Without End, Amen - George Strait Loved Too Much - Ty Herndon Mama Tried - Merle Haggard Mamas Don't Let Your Babies Grow Up To Be Cowboys - W. Jennings I Am A Man Of Constant Sorrow - Soggy Bottom Boys Me & Bobby Mcgee - K. Kristofferson / W. Jennings Ol' 55 - Eagles Old Hippie - Bellamy Brothers On The Road Again - Willie Nelson The Orange And The Green - Irish Rovers People Are Crazy - Billy Currington Pure & Simple - Dolly Parton Raindrops Keep Fallin' On My Head - Billy Joe Thomas Rebel Medley - Traditional 1. Dixieland 2. Yellow Rose Of Texas 3. Oh Susannah 4. The Battle Of New Orleans Rhinestone Cowboy - Glen Campbell Ride Like The Wind - Christopher Cross Ring Of Fire - Johnny Cash Rocky Top - John Denver - Instrumental Ruby, Don't Take Your Love to Town - K. Rogers She's Got The Rhythm (& I Got The Blues) - A. Jackson Shiftwork - Kenny Chesney With George Strait Small Talk - Sawyer Brown Some Beach - Blake Shelton Some Broken Hearts Never Mend - Don Williams Stay Young – Don Williams Summertime Blues - Alan Jackson Sunday Morning Comin' Down - Cash & Kristofferson Sweet Caroline - Neil Diamond Sweet Home Alabama - Lynyrd Skynyrd Teach Your Children - G. Nash / CSN&Y Tennessee River Run - Darryl Worley Tennessee Waltz - Traditional Tequila Makes Her Clothes Fall Off - Joe Nichols There's No Gettin' Over Me - Ronnie Milsap That's All Right Mama - Elvis Presley They All Went To Mexico - Willie Nelson Thing Called Love (A) - Johnny Cash Till The Rivers All Run Dry – Don Williams Trip Around The Sun - J. Buffett / M. McBride Tulsa Time – Don Williams Venom Wearin' Denim - Junior Brown Wagon Wheel - Darius Rucker Wake Me Up - Avicii - (Country Style) Walkin' After Midnight - Patsy Cline Way She's Looking (The) - Raybon Brothers What's a Guy Gotta Do - Joe Nichols When A Man Loves A Woman - Kenny Rogers When The Wrong One Loves You Right - Wade Hayes When You Say Nothing At All – Randy Travis When You Walk In The Room - Pam Tillis Where Corn Don't Grow - Travis Tritt Whistle Dixie - Darryl Worley Wichita Lineman - Glen Campbell William Tell Overture Finale - Glen Campbell Would I - Randy Travis Would You Go With Me - Josh Turner Yee Haw - Jake Owen You Walked In - Lonestar Your Man - Josh Turner